Hostyg review and user rating.
Hostyg Review
, Hostyg is a free web hosting provider was providing free 300 MB web space with 10,000 MB traffic. PHP programming supported,CGI/Perl programming supported, Hostyg is also provides POP3 email account, Hostyg's not forced any advertisement to the user pages(Excellent!). Free web hosting uptime statistics report(Beta) is a new feature available for the active web hosting provider in this directory, Freehostsfinder.com is provides Hostyg uptime report, if you are seeking for a free reliable web hosting, read this first Hostyg daily, weekly and average uptime report by Freehostsfinder.com the best free hosting review guide website. At this moment Hostyg is 99.82% uptime.

Highly Recommended!
. Anyway If you are a client, please feel free to rate and post your own review.
.
Hosting Name
Hostyg
Space(MB)

300

Bandwidth(MB/Month)

10,000

Forced Advertising
Ad. Type

-

Allow Your Advertising
Uploading

FTP+FTP Web-based

PHP
ASP
CGI/Perl
SSL Enabling
MySql database
EMail Support
Online Web Editor
Your URL

Domain or Subdomain

Additional Requirement

No

Rank [?]

263

User Rating

4.67

Added Date

13 Jan. 2014

Hostyg weekly uptime statistics report

[?]

.

Hostyg average uptime is

99.82

%

Hostyg was monitoring since December 30, 2019, 10:00 pm.

1st. Sun, 31-May-2020 Uptime

100 %, 0.2385 s. response time.

2nd. Mon, 01-Jun-2020 Uptime

100 %, 0.2475 s. response time.

3rd. Tue, 02-Jun-2020 Uptime

100 %, 0.2217 s. response time.

4th. Wed, 03-Jun-2020 Uptime

100 %, 0.2478 s. response time.

5th. Thu, 04-Jun-2020 Uptime

100 %, 0.2313 s. response time.

6th. Fri, 05-Jun-2020 Uptime

100 %, 0.3222 s. response time.

7th. Sat, 06-Jun-2020 Uptime

100 %, 0.2261 s. response time.
Hostyg is one of the new comer in free hosting service arena, this one is an interesting for all of you in term of features and easiness, you can get a free account by do it few steps and then activation instantly(verify by email is required). Website seems to be clean designed, no additional action need before signup. By the listed features such PHP and MySql in this review page you can have an advanced website and enjoy with cPanel, the allow space and traffic are fine for the most personal website or medium size business website. If you don't have a registered domain, you can take free subdomain (yoursite.hostyg.com). Don't miss this one if you don't have yet, we recommend you to try this one and don't forget to rate and write your own review.
Here is the Hostyg control panel screen-shot.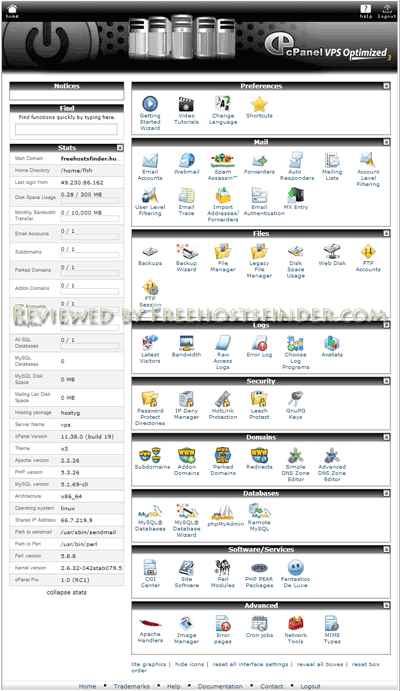 User rates
Hostyg
4.67

out of

10
based on
3
ratings.
3
user reviews.
Hostyg user reviews = 3
Average user rating = 4.67 From 3 users.
Some voted user review(s)