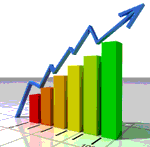 After collecting the uptime value of these free web hosting websites in our hosting directory since opening uptime monitoring service in 2009.
We now have the free hosting uptime rank of all 111 free web hosting website listed below.
Web sites which are added first will be get monitored and will have more number of responses than the other newer entries.Web site has been ranked first in the order that most Web sites will be added in the very first. Has been measured for a long time.
We focus on a Web site that is open over long periods and was a high uptime value.
But not always. Some of them had been closed because of some reasons, so they're in the inactive list.