File hosting name
Visit PhotoBucket http://photobucket.com .
Space/Storage
2,000 Mb(registered user).
Traffic/Download volume
Unlimited Mb(registered user) .
Max image files
10,000 file(s) (registered user) .
Max per image size
2,000.00 Mb(registered user) .
Uploading
Browser/App, Drag and Drop style uploading.
Downloading
By Browser/App /no download delay(registered user), Ad on download page.
Time host
Unlimited days.
Registeration
Registeration required, Instant activation when registering .
User rate
0.
Free-image hosting rank
*(beta)
Other features
, Control Panel, Image Gallery, Slide show, Image Rotation, Image Resize, Image Tag, Post Comment, Image Search.
Statistics
0 user votes, Thu 04-Jul-13 added date.
Are you finding a place to host and share your image and video files to your friends? Photobucket is also one you may looking for. Photobucket provides free 2000 megabyte free online storage for the registered user. Photobucket is not only the place to store your images and videos, Like most popular social networks, the uploaded image and video can be shared and published to other users to comment and like.
Uploading and downloading your to Photobucket.
You can manage your local files to uploaded and downloaded by drag and drop to the provided area on web browser then it will started immediately, then when it done you can manage to share to the most popular social networks include email, but before do that things you can edit your by online photo editor tool. The alternative upload ways are upload from your Facebook and image url. The important thing before uploading videos: You video file size can be up to 500 MB or 10 minutes.
Image actions: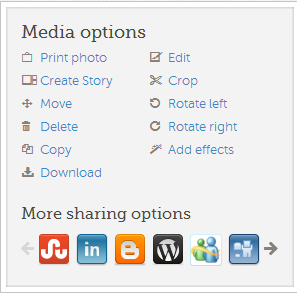 Photo editor tools:


Link codes:
After upload complete the following codes are provided: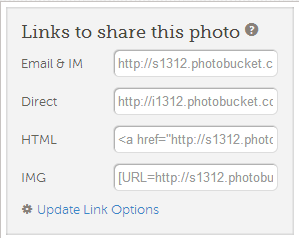 Supported file types:
Images – gif, jpg, jpeg, png, bmp. bmp files are converted into .png files.
Videos – 3g2, 3gp, 3gp2, 3gpp, avi, divx, flv, gif, mov, mp4, mpeg4, mpg4, mpeg, mpg, m4v, wmv. All video files are converted to .mp4 format when you upload them.
As our tried to use all of them, we can say that it was awesome, fast and responsive. The edited photo can be save as or replace the original one. Our suggestion now is, if you have a something very large it better to edit your file locally. When all done now adding image title, description, tags and comment can be now and also viewed as slideshow, create them as an album or create a story.
Tools and Synchronizations:
- Photobucket mobile is a mobile application for access your files via mobile devices.
- Snapbucket is a photo editor app for your smart devices(Android and iOS platforms), it is the one you can add many filters and share to Facebook and Twitter.
What the great thing:
No image file size limit then you can upload you ultra-high resolution image without resizing. (Up to 5 megabyte for animated file.gif)
Conclusion:
Photobucket is one of the great place to play around your photo and video, like social network you can found your friends here and do the funny thing with them, with 2000 megabyte it may not much as compare with others, but you can also use this to host your image for the forum. If you are a photographer it good for you to upload you original images from hi-megapixel camera and also use the online image editor to add some effects or something else.
Not instantly, but sign up a new  account takes some few seconds so not spend so much afford to have one.
Thanks for reading PhotoBucket review.