File hosting name
Visit Flickr www.flickr.com .
Space/Storage
1,000,000 Mb(registered user).
Traffic/Download volume
Unlimited Mb(registered user) .
Max image files
Unlimited file(s) (registered user) .
Max per image size
200.00 Mb(registered user) .
Uploading
Browser/App, Drag and Drop style uploading.
Downloading
By Browser/App /no download delay(registered user), Ad on download page.
Time host
Unlimited days.
Registeration
Registeration required, Instant activation when registering .
User rate
1.
Free-image hosting rank
*(beta)
Other features
, Control Panel, Image Gallery, Slide show, Image Rotation, Image Resize, Image Tag, Post Comment, Image Search.
Statistics
1 user votes, Tue 16-Jul-13 added date.
Flickr is the well-known free image hosting and communities among photographers or users who want to publish and share their images to others, with billions uploaded images and now a day still growing. Flickr now acquired by Yahoo!(2005) then if you already have a Yahoo! account then you can take this service by simply login with the same account. Most of people here like Flickr in term of the allowed image size of 200 MB per image and 1 Tera Byte in total per account, so even though you have an image from hi-resolution camera, it is able to hosted here without resizing needed. The popular voted images can also be published on Flickr homepage.
Flickr might not be the best place to host the forum image, the instant BB codes are not provided but you can have a direct link from "Grab the link' menu.
Your published images can be shared to other social networks such Facebook, Twitter, email, Pinterest, and Tumblr by the share button.
Uploading to Flickr:
Your images and videos can be uploaded on the Flickr upload page, if you are using the most modern web browsers then drag and drop them here, then you image thumbnail will be here in this page, before start upload you can have some more steps to manage to add, remove, sort and rotate them before go ahead.
In case of your browser is not support then you can try the "Old uploadr" then you can upload one by one file.
What more you can do for your image after uploded are following:
Image actions: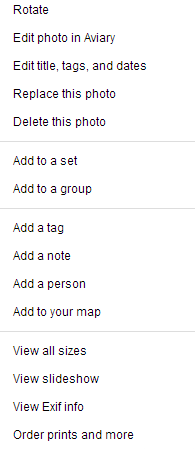 What are the interesting are such:
Add a person, you can add/tag your friends in the image.
Add to your map, add your location where your image was shot(permission to access this location can be managed).
View Exif info, this one is one of the great features you can see the most interesting camera settings such ISO speed, Exposure, Aperture and so on. You can manage to disable others user to view your Exif data by edit the privacy setting.
View them as a slideshow.
Flickr tools:
Flickr Uploadr is available for Windows and Mac OS X.
Upload by Email.
iPhoto plugin for Mac OS X.
jUploadr for Linux, Mac OS X, and Windows.
Eye-Fi Memory Card, if you have this memory card then you can upload directly from camera memory to your Flickr account.
Flickr Uploadr for Windows.
After install the 15mb Flickr Uploadr application then first have to sign in, but without type you user name and password Uploadr can be activated if you already logged in to Flicke on browser. Flickr uploadr for Windows look like below. Design look so simple then your files can dragged and dropped to the upload area.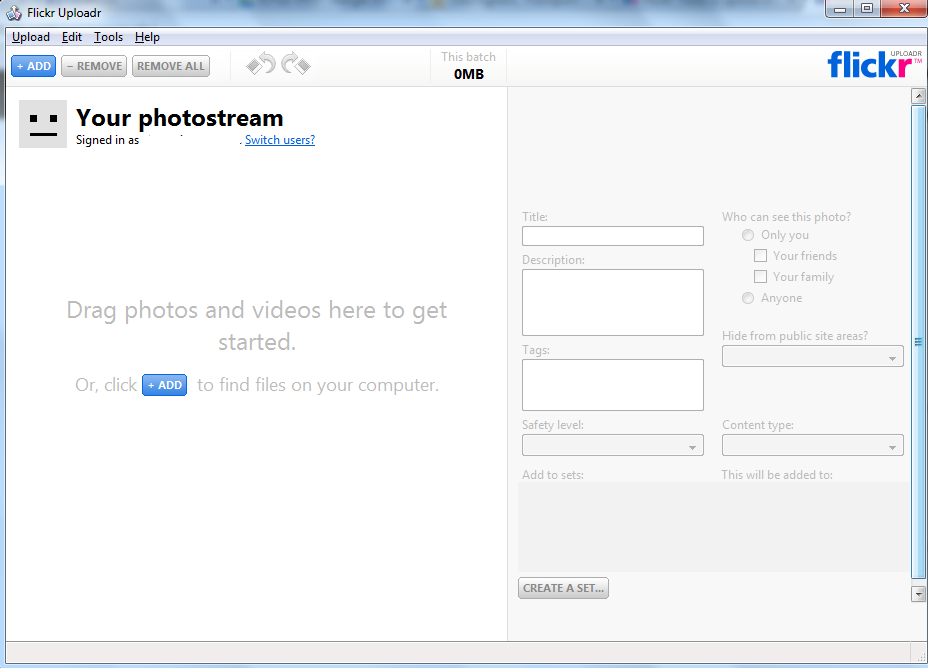 Flickr for mobile platforms:
The available Flickr apps can be found on Android Play market, Apples App store and WindowsPhone Marketplace.
Supported file types:
Images – JPEGs, non-animated GIFs, and PNGs. 
Videos – AVI, WMV, MOV, MPEG (1, 2, and 4), 3gp, M2TS, OGG and OGV.
Conclusion:
Flickr is the funny place if you have many images to hosted and shared to other users, exchange what you think via commenting. You can also upload them as private as well, Lot of professional photographers also were here and they upload their images every day, so you can enjoy to view, comment and mark as your favorite. If you love photography and want to learn more the photography technics and got more friends, then we recommend Flickr to be the one that store your thousands of full-size images.